Get the Thermoplastic Composites Collection In Your Inbox
CompositesWorld Thermoplastic Composites Collection CW's editors are tracking the latest trends and developments in thermoplastic composites. Sign up now and we'll send you our CompositesWorld Thermoplastic Composites collection straight to your inbox!
Thermoplastics have been used in composite parts and structures since the late 1960s, but new materials and processes, and demand from the commercial aerospace industry for faster-processing materials, are pushing thermoplastic composites for primary aerostructures to the forefront of the composites manufacturing world.
CW's editors are tracking the latest trends and developments in thermoplastic composites. What follows is a collection of four recent CW features that detail the basics, challenges, and future of thermoplastic composites technology, with particular emphasis on their use for commercial aerospace primary structures.
I want to say two words to you: "Thermoplastic tapes"

PEEK vs. PEKK vs. PAEK and Continuous Compression Molding

PEEK or PEKK in future TPC aerostructures?

Thermoplastic composites: Poised to step forward

Thermoplastic tapes are not new to composites, but they soon will join the primary aerostructures material palette and could be their future.
Which is better for in-situ consolidated thermoplastic composite primary structures? Materials play a part as to whether a one-step or two-step process will prevail.
Suppliers of thermoplastics and carbon fiber chime in regarding PEEK vs. PEKK, and now PAEK, as well as in-situ consolidation — the supply chain for thermoplastic tape composites continues to evolve.
The evolving role of thermoplastic materials and processes and their future in next-generation commercial aircraft.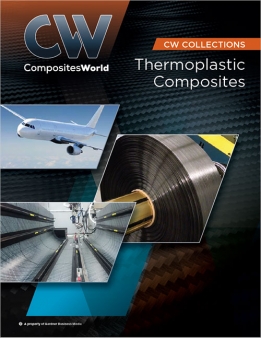 Copyright © 2019 All Rights Reserved.
CompositesWorld is the source for reliable news and information on what's happening in fiber-reinforced composites manufacturing.
Through our monthly magazine, e-newsletters, digital content, market research and events, we connect manufacturing leaders to reliable, accessible information about processes and trends across the global composites manufacturing industry. Our coverage digs into what's new and trending in composites design, tooling, materials and fabrication, and we share the stories of how these materials and processes come together in real-world applications for end markets like aerospace, automotive, marine and wind energy.