Get the Tooling Collection In Your Inbox
CompositesWorld Tooling Collection CW's editors are tracking the latest trends and developments in tooling, from the basics to new developments. This collection, presented by Composites One, features four recent CW stories that detail a range of tooling technologies, processes and materials.
*Joining the CompositesWorld digital community opts you in to CW's email products and the print or digital version of CompositesWorld magazine (depends on qualification). You will receive a follow-up email allowing you to manage/update your subscriptions.

Part One: "Big additive machines tackle large molds," CW editor-in-chief Jeff Sloan discusses the use of large-format additive manufacturing systems for producing production-ready molds quickly and affordably.
Part Two: "Cutting the cost and time of tooling for composites," CW senior editor Ginger Gardiner introduces a chopped carbon fiber/PA66 material set to achieve CFRP/Invar tool performance with less investment.
Part Three: "DYNAPIXEL: automated, reconfigurable molds," CW senior editor Ginger Gardiner writes of a CAD-driven system that cuts time for design iterations and enables cost-effective customized jigs and molded parts.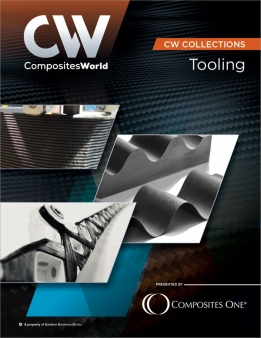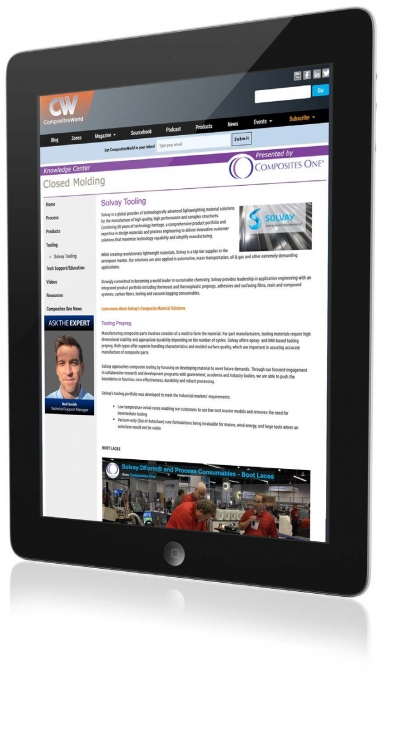 Want to Learn More about Composite Tooling?
Learn the fundamentals of Tooling in CW's Closed Molding Knowledge Center from Composites One.
Presented by Composites One and the Closed Mold Alliance, the Closed Molding Knowledge Center not only provides a wealth of information on closed mold processes, but also can provide manufacturers a good starting point when it comes to composite tooling.
With expert explanations and video demonstrations, this information resource will be of value to current users and newcomers alike.
Topics covered include:
Exclusively Authorized Distributor–Solvay Tooling Prepreg

Closed Mold Tooling

High Temperature Tooling

Educational Opportunities

Industry Resources
You can even ask questions directly to an industry expert. If you're investigating Tooling, this is the place to start. See it online at CompositesWorld.com.


Copyright © 2020 All Rights Reserved.
CompositesWorld is the source for reliable news and information on what's happening in fiber-reinforced composites manufacturing.
Through our monthly magazine, e-newsletters, digital content, market research and events, we connect manufacturing leaders to reliable, accessible information about processes and trends across the global composites manufacturing industry. Our coverage digs into what's new and trending in composites design, tooling, materials and fabrication, and we share the stories of how these materials and processes come together in real-world applications for end markets like aerospace, automotive, marine and wind energy.